About Me
Florin Bratan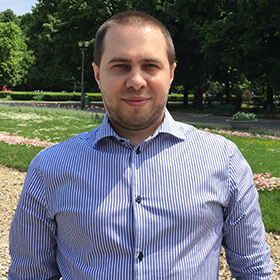 Creative problem solver with the ability to step back and see the big picture, as well as pay attention to the finest details.

On top of the latest trends and technologies with a broad technical skill-set, very strong focus on detail and over 12 years experience in software and web development.

Capable of multi-tasking, managing multiple pressing projects simultaneously and approaching every challenge as an opportunity to create beautiful experiences that people love.

Managing my own personal freelance software development business which specializes in the design, programming, implementation and maintenance of desktop-based business solutions.

Working closely with customers to determine their requirements, design, develop and test appropriate solutions, and ensure delivery of secure, quality projects on time and within budget.
Favorite Quote
Simplicity is prerequisite for reliability.
Software Development
Planning, designing, developing and testing from very simple to very complex desktop applications, using the .NET Framework, WPF and Windows Forms, as well as maintaining, fixing and improving / updating already-existing .NET desktop applications.
Web Development
Designing, developing, implementing, and maintaining websites, web applications and databases. Front-end development using HTML5, CSS3, AJAX, jQuery, Bootstrap, etc. Back-end development using PHP and MySQL.
Happy Clients
Over 68 extremely satisfied clients!
I have worked with dozens of programmers with all kinds of skill levels, but I have to say that Florin is by far the standout amongst all of them. His skills, knowledge, professionalism and honesty make him easy to work with and he understands how to relate to 'everyday' lay people which makes the whole development process a pleasure. If you get the opportunity to work with Florin grab it straight away, because you won't find anyone more skilled.

Glen Hooke / Software Publisher / Numedia Publishing

I can say that Florin is by far one of the best developers I've had the pleasure of working with. He did a ton of development in a short period of time, had great communication and offered numerous suggestions along the way to make the project better. You can't really ask for better!

Jeremy Wilson / Software Publisher / Domain Espi

Top professional! Delivered a fantastic piece of software in no time. Understood the task right from the start and brought in his own ideas to make the software even better. Very easy and pleasant to communicate with as well.

Stefan Lippert / Software Publisher / SEO Heidelberg

Florin is an amazing programmer to work with. He is fast, keeps you updated about the progress of the work & delivers the quality product. If you assign him any work, you are in good hands.

Andrew Garner / Software Publisher
Contact me
Need a software developer?
I'm always looking for new clients so don't hesitate to drop me a line!
Contact Information
florin@bratan.me
https://bratan.me
FlorinBratan
<